---

"If you think you've seen all that women in comedy have to offer, think again. Fresh, original Chris Pendleton will take you — at the speed of light — down her funny road-less-traveled. With a new spin on everything from adoption to physics (and plenty in between) it's a performance you don't want to miss — but fair warning: not for the faint of thought."

LA Weekly

---















































































RAVE REVIEWS
"With a hilarious mix of stylish stand-up, outrageous song parodies and funny fiddling, comedienne Chris Pendleton doesn't leave a dry seat in the house. And she's not just another pretty face behind a microphone, thank God — this girl really knows how to write."
THE STATE
"In the male-dominated world of stand-up comics, Southern gal Chris Pendleton is quickly making a name for herself. With an easy manner, charming Southern drawl and quick wit, she takes the audience on a mental stroll through dating, marriage, having children and having older parents. Chris offers very funny yet delightfully clean humor."
LAKE TAHOE TRIBUNE
"Ms. Pendleton is quick, intelligent, and avoids the obvious female comic clichés. Some female comics delve into the realm of what's-funny-about-being-a-woman-as-opposed-to-being-a-man style of humor. Chris Pendleton has transcended that material, sticking to her comic, through-the-lens perception of life."
SOUTHEAST ENTERTAINER
"We truly recommend this Funny Fiddler — her talent and clean comedy were enjoyed and appreciated. You won't want to miss this exceptional musician!"
Yuma Art Center
"What a funny, wonderful show! Everyone enjoyed her wit and superb musical talents — it was a joy to see everyone enjoying the show! It definitely shows that she loves what she does: sharing her talent with audiences of all ages."
Recreation Centers of Sun City, Inc.
"Sensational entertainment — her show captivated the crowd! She put a wonderful spin on comedy, and her talent on the violin is outstanding and entertaining. A real bundle of energy and talent. Hope to see her again in the future!"
PebbleCreek Resort
"Thank you for once again proving to be one of the strongest shows we have ever presented in our series of more than thirty performing arts venues. You were a smash hit — everyone wants to bring you back! Thank you for being a topnotch entertainer—it was a delight to work with you, and we trust we will have many future opportunities to present you for other projects."
National Performing Artists
"Just want to take this opportunity to say thank you for the hilarious job you did in our production Vegas Variety Live at the Orpheum Theatre! The entertainment director and board of directors of the Orpheum are still buzzing about your three standing ovations. We especially like the unique way you blend your clean stand-up comedy with your Funny Fiddle and we look forward to having you headline our future theatrical events."
MJ Productions Inc.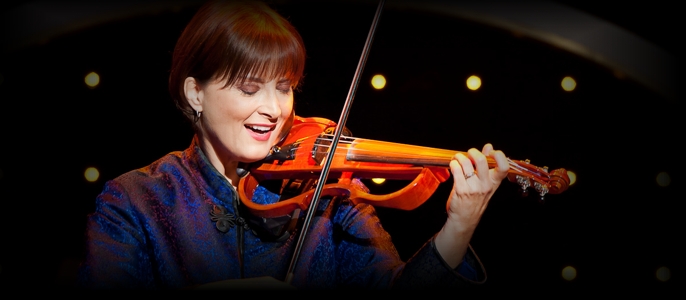 One of the most original comedy acts working today, Chris draws her razor-sharp material from a unique perspective and a diverse background. Breaking new ground for women in comedy, her show cuts across all the traditional boundaries, appealing to both men and women alike. Her surprising talent with the violin adds an additional "Jack Benny" dimension to her unique performance. Seamlessly blending hilarious stand-up comedy and fantastic music, Funny Fiddle™ is a fresh, funny, one-of-a-kind show.